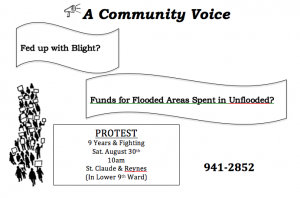 As you know it is that time of year and we are coming up on Hurricane Katrina's 9th anniversary.
Do you think that we should take this opportunity to send a message to the nation that the funds are not being spent in our community  even though the funds were raised to fix our neighborhoods?
We have documents that show that the city spent $30 million on the Crescent Park on the river by the Marigny and built a new park at Lafitte and spent funds across the river on parks and many things but didn't fix our area.  Do you think that we should fight for our fair share of the funds?
For about an hour we will be at Reynes and St. Claude by the bridge at 10 a.m. – 11 a.m.  Sat. Aug. 30th, to Memorialize and Protest 9 years later and we need more.
Please Join Us! 504-941-2852