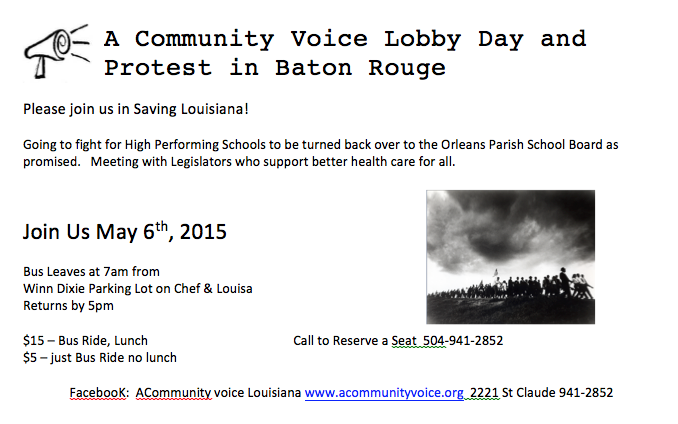 To Join us:
The Education Committee of the Louisiana House of Representatives meets Wednesday May 6th at 9:30 am.  at the Louisiana Legislature in Baton Rouge.
Supporters of House Bill 166 sponsored by Representative Joseph Bouie are asked to write letters, email, and attend the hearing. The law would require that all schools taken from the Orleans Parish School by the Recovery School District that have recovered academically be returned to the Orleans Parish School Board by beginning of fiscal year 2016-2017 school year.
Under present law and BESE policy schools can determine if they want to return to Orleans Parish Schools and they can keep public schools forever.
Thirty-Three schools have achieved academic success and have recovered from failing status on tests administered to students. Under Representative Bouie's bill, approved by the Orleans Parish School Board, these schools would finally return to local control.
The Education Committee is comprised of persons outside Orleans  Parish, except Rep. Wesley Bishop and Rep. Walt Leger, added to the committee because Leger is House Speaker Pro Tem.
You are urged to write letters, emails and make phone calls to these representatives letting them know that you support this legislation. Below please find a link to a bill summary and a link to the Committee members contact information.
It is important that the New Orleans delegation to the Legislature be contacted. We have also attached their contact information.
Bill summary:  https://www.legis.la.gov/legis/ViewDocument.aspx?d=931352
Education Committee and the New Orleans delegation contact information is attached below. Hold ctrl + click over each member's name to get information for the representative.